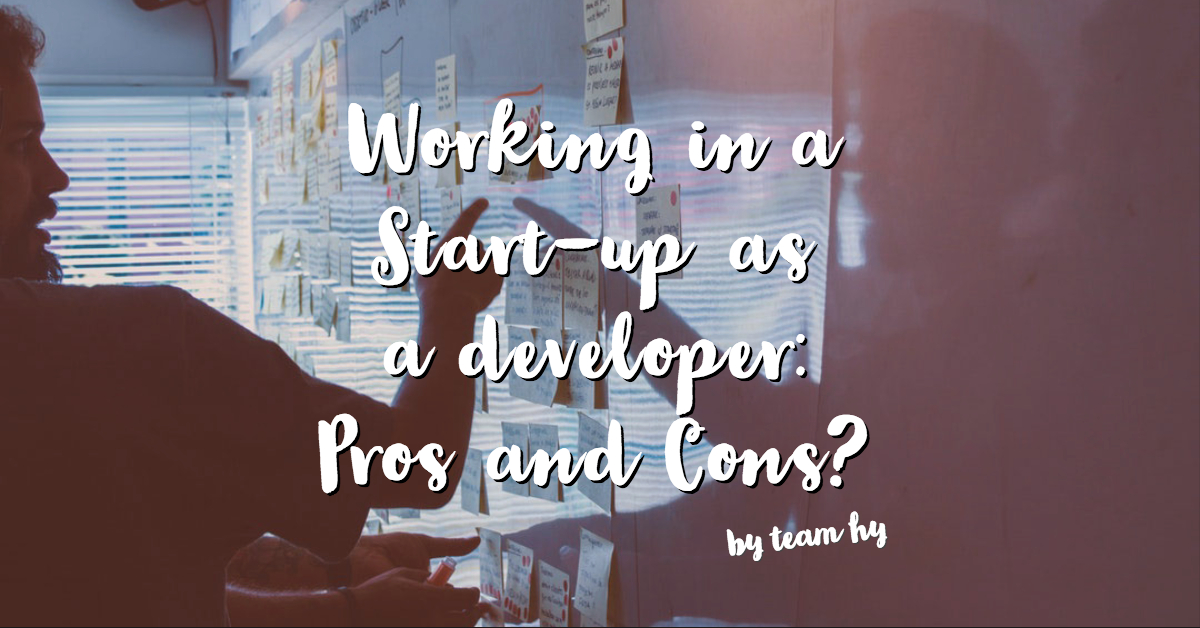 A job at Google, Microsoft, Siemens and other giants used to be the ultimate lucky strike. Rightly so? The grass seemed to be greener and covered by beautifully smelling roses at these concerns — good pay, strong social media game, amenities, good infrastructure and so on. However, a lot of developers are now swapping to start-ups that can be a hell of an intimidating monster to tame should you only now set foot in the working world or should you want to change careers. But luckily you've got us to bring light into the dark. Here you'll find out why you should or shouldn't work for a start-up:
Pro 1. You'll learn a lot
Working in a start-up gives you the freedom to tinker like crazy, to play a part in a lot of areas like product development, funding, leadership, marketing. Because there's no middle management, you can work directly with the founders and learn from them.
Even though a lot of the work you will do is not part of your job description, working in a dynamic and demanding environment like that definitely has its charm. Go - use your super brain!
Image Credit: Giphy.com
Con 1. You need to be dedicated - very dedicated
Now you might think "Hell yeah that's me!". But we want to make sure you really understand what dedication in a start-up means. It means working when everyone else is long at home, maybe already sleeping, "holidays" is a foreign word and the work-life scale is way out of balance. Sure, the work can be "fun and games", but the pressure to deliver, and therefore the stress, is high. There's not much you want to do after work besides Netflix and chill to relieve your brain finally.


Image Credit: Giphy.com
Pro 2. Realize your ideas
At a start-up, contrary to big companies, you really have the chance to leave a footprint. Start-ups need to grow fast to keep up, which gives you the license to be creative. No matter if you have new ideas, start new projects or bring a new point of view to the table, all of that is highly supported.
Image Credit: Giphy.com
Con 2. Job security
Sometimes, but only sometimes, a few stars disappear from the start-up sky.
Research has shown, that more than 90% of start-ups fail within their first three years. They need to fear, that new technical progress and new inventions beat them to it and kill them off. Risky, risky business.

Image Credit: Reddit.com
Pro 3. Working Atmosphere
Shoes off, feet on the table and beer in one hand, while the other hand is typing away on the keyboard. Often a cold beer and fresh fruit (balance is essential) is only a hand movement away. The door to the toilet is left open, and the tabletop soccer board is continuously in use. The office is just equipped with everything that you will ever need, so you don't have to go home. (Good, cause you might spend most of the day working at the office anyway!)
Image Credit: gif-finder.com
Con 3. Salary
Let's be real; if you should decide on working for a start-up, you don't do it because you can see yourself driving a Porsche to work soon. The pay gap is pretty obvious if you compare the same position in a start-up to the one of a typical company. Gruenderszene.de found out that skilled employees in the old economy make around 57,491 Euro per year and the ones in start-ups 40,978 euro yearly. That's almost a difference of 8,000 kebabs!
Image Credit: Gruenderszene.de


In summary, you can say, that 60+ hour work weeks aren't doable over a long period. Meaning the start-up you work for will have to become profitable sooner rather than later or needs to find an investor and hire enough people to keep you and other employees happy. Otherwise, it looks pretty gloomy. You should ask questions wisely at your job interview to eliminate the chance of bad surprises later on. Should you not be interested in the product, you are probably better with working for a traditional company.

What do you think? Can you imagine working for a start-up? Maybe even establishing a start-up on your own?

Next up: Working for a big corporation as a developer: Pro and Cons?